Discover Your Competitors' Traffic Sources

How much traffic are your competitors' websites getting? And where do those people come from? If you've ever wanted answers to questions like these, you will be glad to find out that this guide includes the tools and the methodology which will allow you to reverse-engineer your competitors' website traffic sources.
We will use SimilarWeb - https://www.similarweb.com/ - a website analysis platform. As you can imagine, SimilarWeb won't be able to provide 100% accurate traffic data for all the websites in the world, but it works with several data partners, so the provided information will be good enough for most of us.
1. To start, go to SimilarWeb.com, and then type in your top competitor's address. Here's what I have gotten for cnn.com.
The platform offers traffic estimates for the past six months.
2. Scroll down to discover website traffic by country.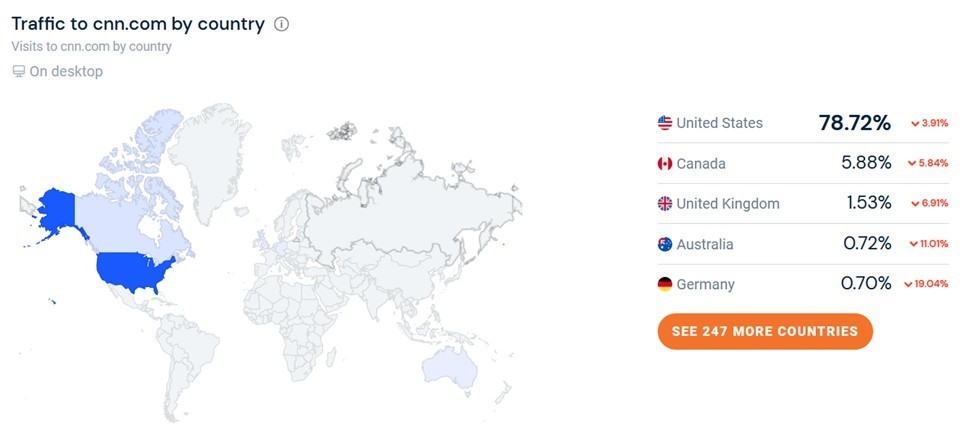 You will notice that the top countries which are sending traffic to cnn.com are United States, Canada, United Kingdom, Australia and Germany.
3. This is where things start to get interesting. Continue to scroll down, and you will discover the top traffic sources that contribute to the website traffic.

Since lots of people are familiar with the media giant, CNN gets over 63% of its traffic through direct visits, which are counted anytime people type cnn.com into their browsers' URL bars, or open the site using a bookmark.
Referrals account for about 2% of the number of visitors. These people arrive at cnn.com after clicking a link that leads them to the site, but was created on another platform, website, etc.
Search traffic is attributed to visitors who use a search engine to discover CNN, and then click the search results link that leads them to the site.
People who have visited a social media platform, clicking a link that led them to CNN, contribute to the "Social" traffic numbers.
Cable News Network sends out newsletters regularly, and this attracts visitors to the site, contributing almost 1% to the overall traffic values.
Finally, the Atlanta-based company also uses ads to promote its website, and that traffic generation method contributes an additional 0.13% to the number of website visitors.
4. Scroll down even further, and you will see the top referring sites, the websites that include links to cnn.com and send them visitors. A hint: having links that lead to your site on your competitors' top referring websites is a fantastic opportunity.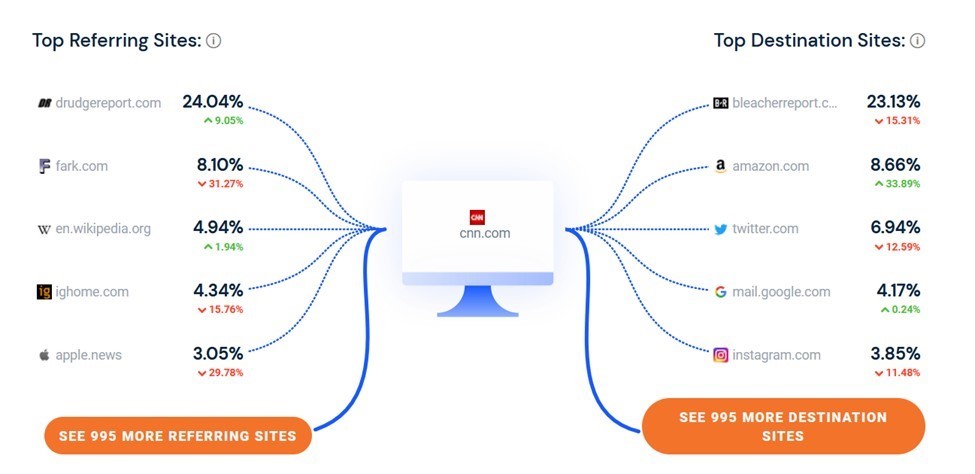 5. The report will also include the top 5 organic keywords, as well as the top 5 paid keywords.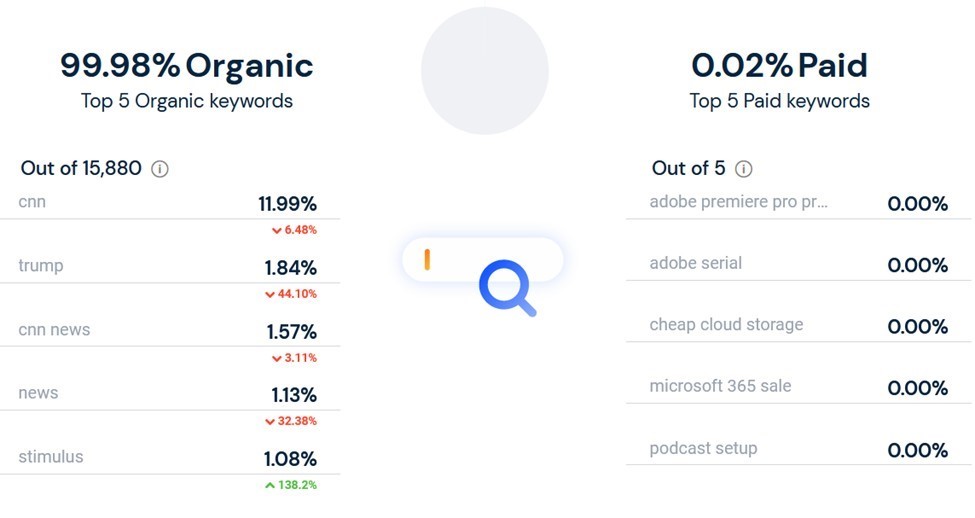 Believe it or not, SimilarWeb can also provide information regarding the top 5 social media platforms that send traffic to any website, the top display advertising publishers, audience interests, and more.
While the free report offers a decent amount of information, our recommendation is to go for a paid SimilarWeb account; prices start at $199/month.